Welcome!
Premier Specialties works with businesses of all sizes, groups, organizations and individuals to determine the most affordable product to use to promote their service, product or event. With close to 1 Million products available, there is something out there to fit everyone's budget. We will sit down with our clients and identify their goals and objectives, design a plan that will get them there in the most affordable way, execute that plan, and then work with the client to analyze the results of the project.
Give us a call or send us an email today!
Featured Item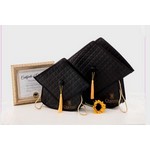 The Quilted Grad Bag - 17"x19"
Luxury Quilted Graduation Bag. The Grad Bag is a magnificent bag option for a school function event,college party celebration and educational fundraiser projects! It is the real bag with the real genu...

Signature Showrooms